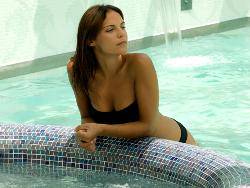 Here the via Aurelia, coastal development, it crosses with the Director historic and from the sea saliva the Colline Metallifere, witness the historic vocation mining throughout the area.

This also applies to Campiglia Marittima, that the medieval village preserves the aspect of feud of the Gherardesca counts and in the territory various sites linked to mining activities: apply for example the ancient church of Madonna della fucinaia, which rises at melting furnaces Etruscan Age, and the castle in Rocca di San Solvestro

The spas are a short distance from the historic route via Aurelia. The place is probably the same of the Baths of Populonia, quoted by historical sources as employees important Etruscan city situated on the coast.

Water of the source of Caldana, used for thermal treatments at today's establishment valley of the sun, has the character and eminently sulphur springs in 45°c by a crater and from various wells.

Water of the source of Canneto, at 34°c, is used instead for the great food thermal swimming pool with slides, and bathing facilities.

The establishment, where making mud-balneoterapie and inhalations, has also a bar and restaurant; the same also produces its own cosmetic line for face and body.

Water:

Canneto. 34 °C solfato-calcico-magnesiaco-bicarbonata.